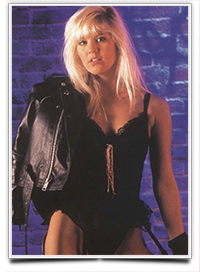 The year was 1986 and an adventurous young girl took a chance on a job interview, quit her day Job, packed her bags, flew to Las Vegas and began her journey into the exciting, yet still remote world of female wrestling. As fate would have it, she would assume her role as "Hollywood", of the tag team Hollywood and Vine, which was part of the trend setting show Gorgeous Ladies Of Wrestling (G.L.O.W.) What started as a whim, would lead Hollywood to become an icon and modern pioneer of the sport. Thus in 1998, Hollywould Productions was born as a result of Hollywood's relentless efforts to provide material to her coveted fans.

Today, Hollywould Productions (yes it is spelled Hollywould) has much to offer as Hollywood has produced hundreds of wrestling videos which include Ring Matches, Apartment Style Matches, Lift and carry and Super heroine Matches. Hollywould Productions continues to provide customers the opportunity to fulfill their dreams and fantasies by scripting their own custom matches. HollywouldProductions.com, Hollywood's premier website, features a fantastic compilation of Wrestling picture galleries, Wrestling video clip galleries, Super heroine Comic galleries, and Glamour picture galleries of the quintessential beauty herself...Hollywood! Also a part of Hollywould Productions is Wrestlingbabe.com, which is the home of Hollywood's downloadable videos, which rounds out the product line to deliver material hot off the press to Hollywood's Fans. Come along for the Ride, it just gets better.
ONE ON ONE WRESTLING POLICY'S
Hollywood reserves the absolute right to refuse to accept or to terminate at once, any session with anyone if at anytime, the wrestler reasonably fears for their safety or are uncomfortable with the situation or surroundings. If said termination occurs, the session will end immediately and there will be no future sessions.

These sessions are for wrestling only. They will never lead to anything of a sexual nature under any circumstances. All parties must be clothed at all times (tops and bottoms) Any request for any sexual favors or anything of a sexual nature will result in immediate termination of the session and all moneys paid shall be forfeited. No Exceptions!
If I have set aside time for One on One wrestling , rented out a facility or location and you have not given me 7 days notice cancellation prior to the appointment there will be NO refunds. These sessions are not Thru CCbill but monies you have paid thru me personally. Thank you
Session Fees 1 hr $375, 1/2 hr $275. No Sex, No Nudity. For questions please email jmbstunts@gmail.com
CUSTOM MATCHES

Would you like to write the script for your own personal Hollywould Productions match?
It is easy! Just write the script; i.e. the holds, ending you want to see, 10 min, 15 min, 30 min the girls you want to see wrestle each other, the winner.

Our prices will be based on the complexity of your script. We will take into consideration the number of performers needed, the difficulties of the requested moves, the attire, the certain special effects/sound effects that will be added during the editing process. The easier the custom is for us to produce, the lower the overall price will be.
Take that and email it to us at jmbstunts@gmail.com and we will make it happen.


JEANNE'S PHYSICAL STATS: Height:5'7 / Weight: 122lbs / Measurements: 34-25-34 / Smallest Corset: 21" / Hair: Brown/Auburn / Natural Hair Color: Medium Dark Brown / Eyes: Hazel / Shoe Size: 8.5, 9 Boots / Dress Size: 3 / Birthday: May 19 1969 / Nationality: Italian, Spanish, Irish

JEANNE'S ASTROLOGY SIGNS: Sun Sign: Taurus / Moon Sign: Aries / Rising Sign: Taurus / Chinese Astrology: Rabbit / Nicknames: Hollywood, Jeano

JEANNE'S FAVORITE THINGS / WISHLIST :

FLOWERS: Gardenia's, Freesias, Daisy's, Roses

HOBBIES: Beach, Movies, School , Museums, Music ,Travel, Business.

CARS: 73 stingray corvette, 57 Ford Thunderbird

CAR COLORS: Silver, Black, Red

SOME PLACES I'VE BEEN: Italy, London, Paris, Japan, Malaysia, Zurich, Rome, Florence, Prague, Amsterdam, Russia, Berlin, Jamaica, Mexico, Milan, Switzerland, The Panama Canal, Canada, Cozumel, All over the U.S.

COLORS: White, Black, Heather Grey, Light Pink, Light Blue

JEWELRY: Tiffany & Co. - Heart Tag toggle link Necklace. Sterling silver rings, bracelets, toe rings, Diamond solitaire earrings

PERFUME: Angel , Gendarme (Men's Cologne) , Diamonds by Giorgio Armani, Prada Infusion D'Iris

T.V. SHOWS: Bates Motel, Californication, Life and Times of Tim, True Blood, 24, LA Ink, Entourage, Lost, NGC, Curb your Enthusiasm, Seinfeld, PBS, Everybody Loves Raymond, CNN

MOVIES: Office Space, Napoleon Dynamite, King Kong 2005, BIG, Bonnie And Clyde, Eddie Murphy - RAW, Friday, Meet The Parents, This is Spinal Tap, The Holy Grail

MUSIC: I love my music! Rock, 80's Metal, Southern Rock, Power Rock, R&B, Soft Jazz, Blues, Classic Rock, Pop Country, Oldies, Classical, Alternative

AUTHOR: Stephen King , Michael Crichton

FOOD: Fine Dining, Sushi (Sashimi) , Seafood, Steak , Mexican, Italian, Indian, Thai

COCKTAILS: Ketel One or Grey Goose Dirty Martini with 3 bluecheese olives, Good Red Wine, Pinot Grio and Champagne

CANDY: See's Candy (nuts and chews) www.sees.com

METALS: Platinum, White Gold. Sterling

CAT: keekster, Maris (RIP)

SHOES: (Very high heels at least 4-5 inches) Christian Louboutin, Jimmy Choos, Giuseppe Zanotti, Stuart Weitzman, Manolo Blahnik (yes I have expensive taste, but designer shoes are much more comfortable!)

JEANNE'S PASSIONS: Romantic getaways / Love at first site! / strappy heels and stilettos / full fashioned/seamed stockings / garters / lingerie / corsetry / anything soft / frilly & pretty :) / Black and white photography / Music / A tall dark handsome man / blue eyes! / If you have honesty and trust you have it all!

TURN OFFS: Insecurity / mean people / people whom brag / liars / cheaters / ramblers / ignorance / cruelty and peas



Besides the gorgeous Hollywood, you can also see these beautiful and powerful ladies throughout our photos and videos in our member's area. Most of these ladies are also available for custom videos as well. Have a look and be sure to let us know who your favorites are!
Talent availability is Contingent on Hollywood's Travel Schedule.
| | | | | | |
| --- | --- | --- | --- | --- | --- |
| | | | | | |
| ALEX | ALLIE PARKER | AMBER | CANDI (TN) | CALI | CASEY |
| | | | | | |
| CHARLIE (N/A) | CHERYL | CHRISTINA | CHRISTIAN | CHRISTINE | DARRIUS |
| | | | | | |
| CARRISSA | DEVIN | DIANA | DOLLY | DUNCAN | FALLON |
| | | | | | |
| FRANCESCA | GOLDIE | HAVANA | HELENA | HOLLYWOOD (TN & CA) | JEWELL |
| | | | | | |
| KORDELIA | KRISTIANA | KRISTIE | LIA | LIZ | MAX MIKITA |
| | | | | | |
| MELISSA | MICHELLE | MONICA N/A | NICOLE | ONYX | PUMA |
| | | | | | |
| RANDY(retired) | ROBIN | BOBCAT (TN) | STACY | TOMIKO | TORI |
| | | | | | |
| TENN SPOILER N/A | LAYLA(TN) | BLEAU (TN) | DIANA (TN) N/A | GOLDIE LOXX Retired (TN) | SINDY (TN) |
| | | | | | |
| BONNIE BELLE N/A | JULIE (TN) | SUMIKO (TN) | AWESOME KONG (FL) | ODETTE | PA PUNISHER |
| | | | | | |
| SKYLAR RAYNE (TN) | AMAZON ANNIE (NY) | TILLY McREESE | LUCY PURR | VERONIKA | RAZOR (TN) |